Admiral's Club
Resident owners may be eligible to join our Exclusive Admirals Club. The Admiral's Club is by membership only and will provide a variety of unique benefits and amenities.

A Private Mega Yacht:
Members will have the option of participating in the fractional ownership of the resorts own 110' yacht, Island Time. The Yacht Island Time has been cruising the beautiful Exumas waters over the last 6 years and has become the Most Popular Charter yacht in the Bahamas.

As a fractional owner, members will be able to cruise the beautiful island chain of the Exumas while enjoying 5 star service with on board chef and a professional crew of 4.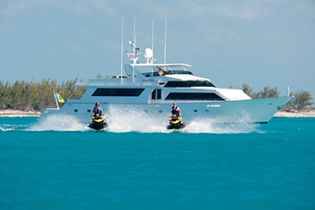 ↑ Island Time at night ↑

For more information about Leaf Cay Resorts Yacht Island Time, please visit the website for the yacht at www.yacht-islandtime.com

Admirals Club Lounge:
Members and their guests will have access to the Private Admirals Club Lounge located near the main Restaurant and reception area near the marina. The private lounge will feature the finest in furnishings and provide food and beverage service while enjoying spectacular views of the surrounding turquoise waters around Leaf Cay.

Concierge Service:
Admirals Club members will have access to 24 hour Concierge Service at Leaf Cay Resort.

From Private aircraft travel arrangements to yacht and boat charters, all can be handled by our Admirals Club Concierge Service. In addition, provisioning for your villa, bungalow or yacht, along with special touches like floral arrangements, special welcome amenities for you and your guests all will be handled by our VIP staff.